Apr 2, 2021 07:09 AM Central
Tina Chin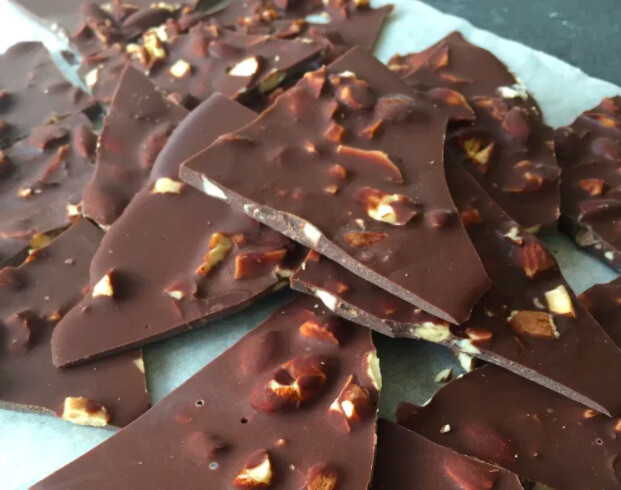 Ingredients
100g Organic raw cacao butter (from good health food stores)
40g Organic raw cacao powder (or to taste)
0-60g Organic pure maple syrup or rice malt syrup
⅛ tsp Organic Himalayan salt
3-4 drops Young Living Orange Oil or 2 drops Young Living Peppermint Oil
60g Organic Roasted nuts of choice, chilli, orange zest (Optional)
Putting it together
Line a baking tray or place silicon mat on baking tray
Decide on what flavour you would like to make
If using nuts, roughly chop the nuts by using 1 sec turbo in the thermomix. Place nuts in a bag and crushing them with a frypan bottom
Place them on a tray with baking paper to lightly roast for around 15 minutes or till golden on 180 degrees C. Allow to cool and rub off as many skins off as you can
Chop cacao butter roughly with a knife on a chopping board, to approx. 1-2cm cubes.
Place cacao butter into mixing bowl. Mill 20 sec/speed 8. Scrape down
Melt cacao butter for 10 mins/50°/speed 1, scraping down sides of bowl with spatula towards end of cooking time to ensure all the cacao butter is melted. Continue to melt a little more at 37degrees if needed.
Add salt and syrup to mixing bowl and continue cooking 4 mins/37°/speed 2.
Add oils if using then mix chocolate 10 sec/speed 5. Pour into chocolate moulds or onto a prepared tray for a thin chocolate bark.
Sprinkle chopped nuts if using nuts
Place in the refrigerator to set, as it may separate if you set it at room temperature.
If you don't have a thermomix...
Crush the nuts lightly and bake for 10 minutes in a preheated oven 180 degrees C. Allow to cool
Melt the cacao butter in a bowl over a saucepan filled with hot water, a very low heat until just melted.
Add the rest of the ingredients and mix until well combined.
Then follow remaining steps above
This simple recipe for raw chocolate taste so good and it's dairy free! It can be made and ready in half an hour.
Raw chocolate is so simple to make especially in the thermomix. You don't have to have a thermomix to make this, Just use a large bowl to melt the cacao butter over a saucepan of simmering water.
Once it's made, it goes into refrigerator unless you are in a hurry put in the freezer till the chocolate snaps then break it up and store in the fridge. Ok to be honest if you are coming off sugar for the first time you may find that this recipe may require a little more maple, so just reduce the raw cacao a little. For our family, I use 20g of maple instead of 60g and I know some people who don't use any sweetener at all.
I feel that a lot of my food intolerances were a blessing in disguise as I would never have discovered the world of healthy and amazing treats I enjoy now. They take less time to make and I feel so much better.
Raw chocolate has great benefits. Don't let the advertising for regular chocolate fool you into thinking eating lots of it is good for you. Read up on raw cacao. It's the refined sugar in most chocolate bars that remains on your hips.
Although this is a healthier version, keep everything balanced and in moderation. When you have your vitamins and minerals balanced in your main meals, you won't be needing much chocolate even though they are amazing.